"A very arduous, small pathway leads you into the top of the nebulous mountains. At this remote place a hermit has his home, a man of wisdom and mystery. They say he lives here because he is able to hear the voices of the gods here. In a small cave, not far from the mountain top, sits a small and ragged man. Somehow you had imagined the hermit to be more impressive."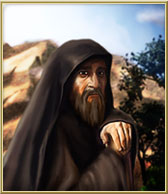 The Hermit is a old man who lives at the top of one of the Misty Mountains. He can be visited by the character and provides a few services for a price.
He can be paid to:
Change your name
Change you gender
Ship you off to other lands.