Welcome to Gladiatus Wiki
The wiki about Gameforge's browser game Gladiatus that anyone can edit.
Since October 22nd, 2009 we have added over 49 articles to this wiki.
We currently have 0 active users working on the site.
We have a total of 1 Administrators, of whom 1 are Bureaucrats.
Click here for more statistics.
This wiki is best viewed with a modern browser using the screen size of 1280 x 1024 or larger.
We recommend using the Firefox browser, because it has a wider mouse-over tool-tip space.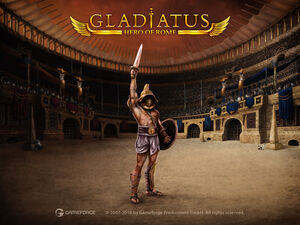 Gladiatus Wiki is an informational site where anyone can contribute with their facts about this MMORPG game and read articles which covers many topics of the game! We are dedicated to bringing you an in-depth guide to the game and give you that special edge to beat the competition
A Browser based MMORPG made by German company Gameforge. A world of danger awaits you in the great Roman Empire. Fight a growing number of opponents on expeditions, show your strengths in the arena and defy danger in the dungeons. Those who are about to die salute you Gladiator!
Fight your way through different arenas and measure yourself against other players
3 Unique Countries to explore each with Different weapons, gear and enemies to offer
Over 100 unique opponents with their own strengths and weaknesses await you on expeditions and in countless dungeons
Over 1000 different items enable you to equip and specialize your character the way you like
Join your Brothers and sisters in Arms in guilds and use your combined strength To Climb the Leader Boards
Indulge at the official Gladiatus forum here.
[V1.7.0] Has been installed on the German servers and other communities will soon get the new update.
V1.9.0 Market abuse has gone rampant; new rules have been applied and extremely over pricing merchandise (up to 5x base value) in the market is now punishable by having your account banned!
Gameforge has now merged selective severs together. Gladiators in these merged servers can now expect to see a boost in chat room activity, market efficiency, arena size, event size and an over all better gaming experience within these new expanded communities.
The latest game rules cam be found here